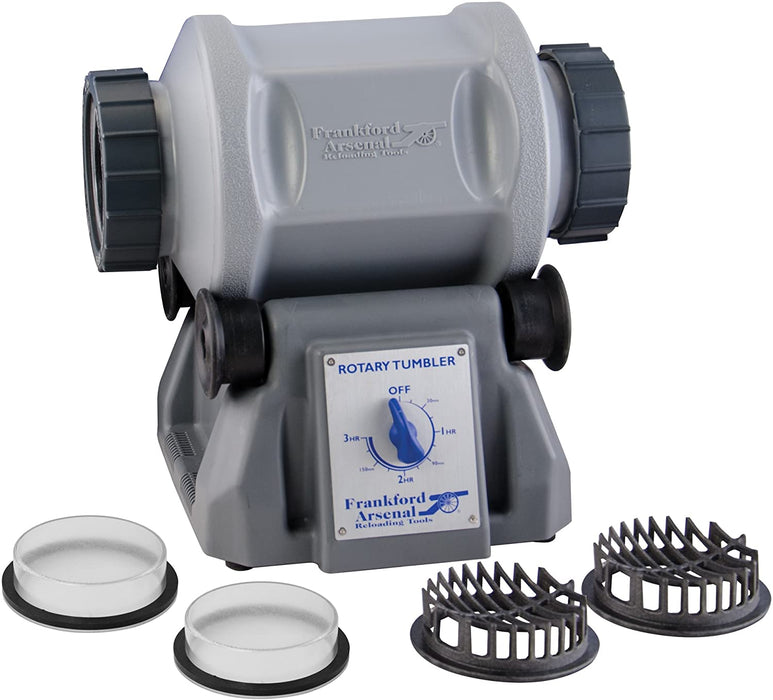 Frankford Arsenal® PLATINUM SERIES ROTARY TUMBLER 7L
The Frankford Arsenal® Platinum Series rotating tumbler delivers a whole new level of brass cleaning performance.
When rotated with our stainless steel pins in a liquid bath, brass will be much cleaner and work much faster than ultrasonic or vibrating tumble methods.
The small stainless steel tumbler pins remove carbon from interior cases and primer pockets to appear completely like new brass.
The large drum can hold up to 1000 pieces of 223 brass and has a molded-in rubber lining to protect brass and reduce noise during operation.
A built-in timer in the base can be set to run from 0 to 3 hours, which switches off automatically.

A set of sight end caps is also included to help separate the stainless medium when tumbling is complete.
The tumbler can effectively clean without the use of stainless steel media pins with a mixture of Frankford Brass Cleaning Solution and water (using media pins ensures that the primer pockets and the inside of cases are completely clean)
It is the most effective brass cleaning process, available with a large capacity of 7 liters.